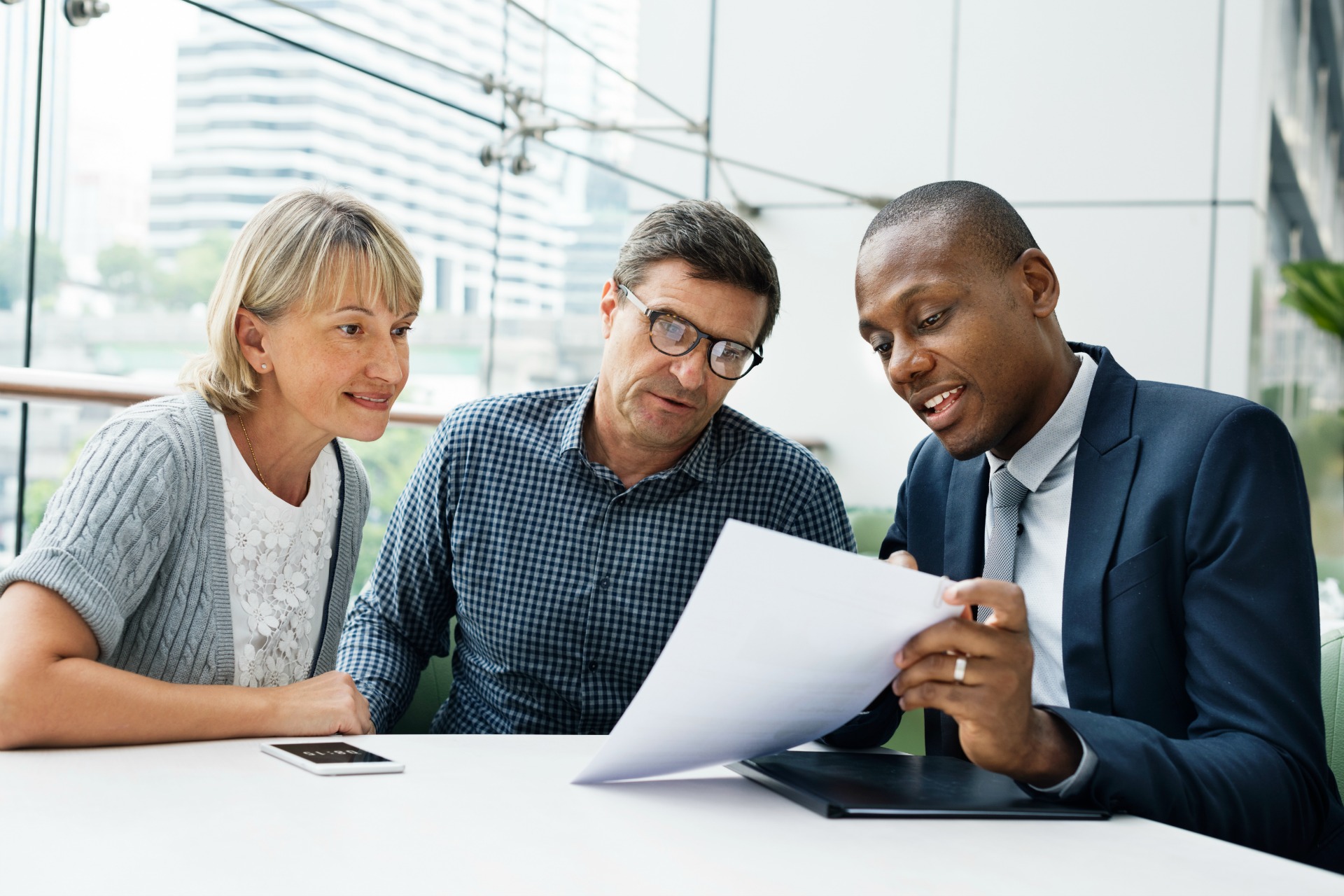 You may be at the point where you have started to accumulate a decent amount of money in your 401(k) plan. Or, maybe you've made significant changes in your life that affect your finances, such as getting married or having a baby. 
Perhaps you are also looking for answers to money-related questions such as how to reduce your debt, or you could be thinking about bigger goals like buying a home, paying for college or funding your retirement. Maybe you simply want to know more about various financial options or the best ways to save and invest. If any of these things describe your situation, it might be time to consider seeking the services of a professional financial advisor.
No matter what is going on in your financial life, the question of whether you need a financial advisor is a good one to be asking. In this blog post, we'll explore when it may be time to seek outside advice and how to choose the person who's the best fit for you and your money.
Is It Time to Step Up Your Financial Game?

Here are some signs that you may want to bring in a professional to provide financial advice:
1. You're tired of managing your money yourself or you aren't satisfied with the returns you're getting on your own.
These days, investing is something that virtually anyone can do by setting up an online brokerage account. Because it's so easy, some folks are tempted to simply turn on Fox Business or CNBC and invest their money using a do-it-yourself approach. One of the challenges of managing your investments this way is that you're getting your investment information from the news along with millions of others, so you shouldn't expect to find bargains or determine when a stock is over-priced ahead of the "smart money". In fact, you may fall victim to herd mentality, which can lead you to sell into a falling market or buy just because the market is moving sharply upward, without considering your long-term goals. This doesn't mean you can't do well on your own, but you would need to dedicate yourself to learning a lot about investing to do so. You also need the confidence to avoid common traps such as investing in a company just because you like their products or panicking and selling at a loss when the market goes down.
History tells us that it's tough to do well as a casual investor. DALBAR, a leading financial services marketing research firm, released a study showing that, for the 20-year period from 1990 to 2010, the average equity investor earned only 3.49% annually. When you compare this to the unmanaged S&P 500 Index which earned an average of 7.81% annually during the same period, the results are discouraging.[i]
2. You're concerned about money, about how to save enough for retirement or what the market is doing and how it will impact your nest egg, but you're not sure what to do.
If you don't know where or how to seek financial advice, you're not alone. According to a recent Harris poll, roughly half of Americans don't know where to turn when they need financial advice and support. And 62 percent said they did not have a financial advisor of any kind.[ii]
When you choose to work with a financial professional, you have the opportunity to learn more from someone you trust about how different types of investments work, someone who can determine which ones are right for you based on the amount of risk you can (and should) take. You also have the benefit of having someone who will take an objective approach to your financial matters.
What Types of Advisors Are Out There?
In the financial arena, the term "financial advisor" is a broad term commonly used to refer to all types of professionals that help people manage their money. Within this category, there are a variety of services that include CPAs for tax planning and attorneys for estate planning. For the purposes of our discussion, we'll focus on financial planners and investment advisors.
Financial planners tend to be goal-oriented. This type of professional works with individuals and families to help them reach their financial goals, such as retirement or planning for their children's educational needs. A financial planner can also help answer questions about issues such as whether you have enough insurance, what types of tax-deferred accounts are best for you, charitable giving strategies, and which of your employer benefit plans you may want to take advantage of.
In contrast, the term investment advisor generally refers to a professional who assists in the management of financial assets. If you reach a point where you feel overwhelmed by making your own investment decisions or really don't have the comfort level and confidence to do your own investing, you'll want to talk to an investment advisor.
To complicate matters, some investment advisory firms also offer financial planning and some financial planners offer investment advice. But, in general, if you're dealing with setting and reaching goals, a financial planner is a great place to start. If your primary need is help with investments, turning to an investment advisor is the right first step.
How Important are Credentials?

There are various credentials a financial planner or investment advisor can earn to show they have the knowledge you probably expect them to have. In a nutshell, these credentials can be an important data point to help you get comfortable with a professional's qualifications.
As background, there is no regulatory body overseeing the financial planning industry, which means anyone can say they are a financial planner without any particular qualifications. That's why groups like the CFP Board established a CFP® (Certified Financial Planner) certification to help give the public confidence that a planner who has earned this designation has a base level of competency. Financial planners might also pursue the Certified Private Wealth Advisor (CPWA) or Chartered Financial Consultant (ChFC) designations.
In contrast, the investment industry is highly regulated. Any individuals or firm involved in managing assets or giving investment advice need to be either a broker, broker-dealer or Registered Investment Advisor (RIA). Being an RIA is a designation a firm can earn. Not unlike the CFP, employees of the firm are required to take competency examinations to become certified RIAs.
What Other Qualifications Should I Know About?
Most financial professionals are bound by some type of standards when giving advice to their clients, but there is a significant difference between the two major standards, and it is important to know about this difference. Both CFPs and RIAs are subject to a fiduciary standard, which means they are required to act in the best interest of their clients. In contrast, investment professionals like brokers or broker dealers are typically subject to the less restrictive suitability standard, which means that the investment options they recommend only need to be "suitable" for their clients.
Many people find the fiduciary standard gives them an added layer of confidence when choosing an advisor. However, it's important to note that just because you work with someone who is held to the suitability standard doesn't mean that person isn't going to take advantage of you. It is important for you to ask any professional advisor what standards they operate under. If it's a suitability standard, you'll want to be mindful of that fact and scrutinize the advice a little bit more, especially regarding the fees and commissions the advisor will earn if you buy a particular product.
On the flip side, just because some professionals are subject to a fiduciary standard doesn't necessarily mean they're better at their jobs than someone held to the suitability standard. There are many advisors that are not as good or as qualified as someone who is held to the suitability standard. However, all things being equal, working with a fiduciary offers more peace of mind because you have a guarantee that the advice that person is giving you is aligned with your best interest.
What Should I Look for in a Financial Advisor?
Whether you choose to work with a financial planner or investment advisor, one of the first places to start is by looking at the person's background and credentials. If you're looking for a financial advisor, that doesn't mean you should only work with a CFP. However, if the person you're considering doesn't have this designation, you'll want to do more digging to get comfortable with his or her qualifications.
You'll also want to look at the individual's experience. Someone just starting out in his or her career may have more technical knowledge but less hands-on experience, whereas someone with decades of experience may be less likely to apply a fresh way of thinking to a challenge you're facing. There's no right or wrong answer, it's just important to do your homework. Also, find out if the individual has other clients similar to you. While virtually any qualified financial professional has enough knowledge to cover common financial situations, if your situation is uncommon or your advisor mostly works with high-net worth clients and your assets are far below what his/her other clients have, you may find it's not an ideal fit.
Perhaps the most important thing to consider is your overall comfort level with the financial advisor you're considering. You'll want to work with someone you can relate to and connect with, someone who understands you and is concerned about you and your issues.
There are two other things to consider that people often overlook. If the advisor works as a one- or two-person firm, ask what the contingency plan is if anything happens to your advisor (as well as what you should do if he or she is on vacation and unreachable), so you know what you're up against if that situation arises. And don't be shy about asking for details about how you'll pay for the advisor's services, how often you will meet in person and how else he/she may be compensated, so you enter the relationship with your eyes wide open.
How Do You Find a Financial Advisor?
One of the best ways to find a great advisor is to ask friends and co-workers for a referral if they are satisfied with their advisor. I do not recommend choosing an advisor from a random list on a website. It's so much better to start with a recommendation from someone you know and trust. You should interview a few candidates before making your decision.
It takes a bit of effort to find and get comfortable with a new financial advisor. But in the end, having someone on your team who is knowledgeable and who can help you get comfortable with your overall financial strategy can provide tremendous value when it comes to your financial health and well-being.
Relative Value Partners is an RIA firm, helping clients meet their financial goals and investment objectives. As fiduciaries, our clients have the peace of mind that comes from knowing we put their needs first, always. If you'd like to know more about our financial planning and investment advisory services, please reach out anytime. We welcome the opportunity to help you create more wealth and financial security.
About the Author: Jeff Fosselman, CPA, CFP®, JD
With more than a decade of experience in the industry, Jeff Fosselman is instrumental in delivering financial planning strategies and counsel to high-net-worth individuals. As Senior Wealth Advisor for Relative Value Partners, Jeff provides comprehensive advisory services in estate planning, income tax planning, cash flows, asset allocation and other financial planning areas.
Disclosure
Information contained in this article is obtained from a variety of sources which are believed though not guaranteed to be accurate. Past performance does not indicate future performance. This article does not represent a specific investment recommendation.
No client or prospective client should assume that the above information serves as the receipt of, or a substitute for, personalized individual advice from Relative Value Partners, LLC which can only be provided through a formal advisory relationship. Clients of the firm who have specific questions should contact their Relative Value Partners counselor. All other inquiries, including a potential advisory relationship with Relative Value Partners, can be directed here.
---
[i] https://www.investopedia.com/articles/stocks/08/invest-on-your-own.asp
[ii] https://www.thinkadvisor.com/2016/06/21/most-americans-get-no-financial-advice-survey/?slreturn=20181104154949