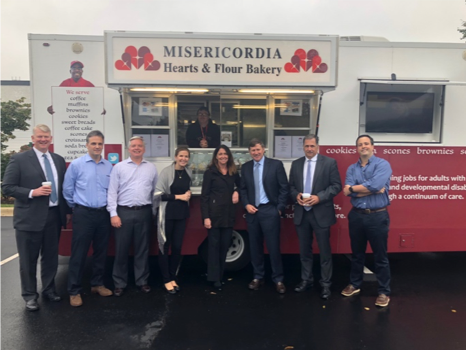 On October 5, 2018, Relative Value Partners sponsored the Misericordia/Heart of Mercy "Sweets on Wheels" bakery truck to provide delicious breakfast items, baked goods and other treats at our offices for our clients and our employees.
Misericordia supports 600 children and adults with mild to profound developmental and intellectual disabilities, many of whom are also physically challenged. Twenty percent of Misericordia residents either come from families living in poverty or have no families and are wards of the State.
Misericordia provides employment services and personalized care to maximize each person's independence and engagement in the Chicagoland community. Some of Misericordia residents work at Chicago businesses, and other businesses outsource projects that are performed on Misericordia's campus by their residents. The Sweets on Wheels truck is another way the organization provides training and work opportunities to their residents, and brings Misericordia's message, along with delicious treats, to the community. Based on the success of Sweets on Wheels, Misericordia is opening a bakery/gift shop in Glenview in October.
Sweets on Wheels serves Chicagoland at Metra and "EL" stops and is available for private events. Relative Value Partners is proud to have supported Misericordia in this effort. You can learn more about the organization, their work in the community and opportunities to support Misericordia's mission here.